Chargement en cours...
100% Secure Booking, Best Rates Guaranteed, Instant Confirmation









Your Comfort, Our Services
Auberge hotel in saint gilles les bains.
When we arrived almost 20 years ago we wanted to meet a need for accommodation in the west with affordable prices in a no-frills traveler concept, we created this unusual and colorful hotel, not classified but referenced Guide Du Routard. We often go there at the end of the stay after having visited the circuses and the peaks of the island, the weather is always beautiful and the feet of the hikers can fully benefit from a little rest in the large lagoon of the hermitage. An ideal location for accommodation in the city center with all the services? close to the beaches and the marina (200m) in a youth hostel concept.
"NEW" a special SOLO traveler rate
Audrey will welcome you on the 1st floor of a house from the 70s a little outdated but refreshed by a bohemian decor with her collective kitchen overlooking thelarge roof terrace which overlooks the street which will lead you to the famous Plage des Roches Noires and, or to the marina with its entertainment until the night. Located in the city center of Saint Gilles les Bains in a typical and familiar neighborhood with nearby free public parking, 4 bakeries, 8 cafes, 12 restaurants and 10 take away.
The main establishment on the 1st floor is divided into 2 categories: either a standard hotel for 1, 2 or 3 people (n ° 114, 115 and 116) the most comfortable with a private bathroom + a terrace with a refrigerator or either in collective hostel n ° 111, 112 and 113 for 1 or 2 people with balcony and bathroom to share but also in backpackers type with on the ground floor a cabin room and a single. These rooms also have a shared kitchen to prepare breakfast and a friendly terrace to taste one of the many Creole dishes to take away that you will find in the street of the hotel from the beach.
A sanitary protocol to be respected with distancing
physical - hydroalcolic gel available at reception and in your room - daily disinfection of common areas - personalized welcome by appointment. After each rental we air and respect a rest period before the next rental.
- Eco-responsible with a high-performance solar device for sun-heated shower water, linen and water management, selective sorting are some of our concerns.
With us you will also find a free luggage room, we lend you beach equipment, mask and snorkel, we exchange our books and the wifi connection is excellent. You can store your 2 wheels and even take a shower before your plane in the evening.
-Nearby you have a bus stop that serves both the south to st pierre or the north to st denis and local lines to reach the Maido or the beaches of the West.
And a direct line with the airport in 50 minutes.n ° T
http://www.carjaune.re
- On foot you will reach the black rock beach and the marina at 200 m with a seafront atmosphere until midnight.(Diving, fishing, sailing, sea trips, marine observation by catamaran etc ...)
Or Le Lagon de l'Ermitage in 15 minutes via the Brisants beach. (mask and snorkel available at reception)
The Cormoran basin with a swim under the aigrettes waterfall by the st Gilles ravine (departure at 200m)
the essentials of the west from the hotel:
-
You want to go for a horse ride
http://www.leschevauxdumaido.com
-
A hike with swimming: Our 3 basins (the Cormorant basin, the egrets and the misfortune basin)
- the point of view of the Maido (mafate)
- the hermitage lagoon and its sunsets
- the fairground market in st paul every Friday.
- Diving on the coral reef
- the atmosphere of St. Gilles evenings
Activities near us:
- Whales and dolphins within reach of fins. Outings all year round with
https://www.duocean.com
-Lava tunnel
http://www.canyon-speleo.re/tunnel-de-lave-la-reunion/
- Diving for all levels
www.bleu-marine-reunion.com
and
http://www.escapadeplongee.com
- Paddle, pedal boat, canoe ... snorkeling and intense sunset at the saline les bains
http://www.ecole-paddle-surf-reunion.com
- Waterhole skysurf spot (2kms)
- A guide for your hikes:
www.lesrandosdegilles.com
and
http://www.bureau-montagne-reunion.re
- MTB descends from Maido.
http://www.vttreunion.com
and
http://www.descente-vtt.com
- Paragliding over the lagoon of st leu
http://www.alize-parapente.com
and
http://www.amazoneparapente.com
http://www.parapentenature.com
- ULM in st Paul -
http://www.felixulm.com
- A little culture close to the hotel:
the unique Aquarium in Réunion, the Villèle museum on colonization, the turtles of Kelonia, Stella Matutina and the history of men and sugar.
- a car to rent:
https://www.nouloutou.com
tel 0692.84.94.88 delivery to the hotel
www.taxibrousse-reunion.com
-
http://www.sunauto-reunion.com
-
http://www.reunloc.com
(car and 2 wheels)
- For those who have a car free public parking nearby 300 spaces.
- Need an airport / hotel transfer. -
- transportDaly
http://www.transportsdaly.e-monsite.com
Jerome
+262
692 132 719
mail: transportsdaly@gmail.com
- drivers 24/24 (shuttle - tourist circuit - shopping) jean-claude
+262 690 483 084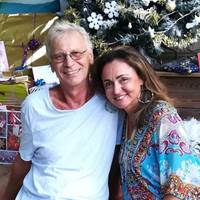 pascal delaplace
My rating Booking.com

Exceptional
311 lived experience(s)
Cleanliness 8.9

Geographical location 9.3

Comfort 8.2

Facilities 8.3

Staff 9.5

Quality / price ratio 8.4
Our News
whales and dolphins within reach of palms
WHALES OBSERVATION SCHOOL cetacean sightings, out...
túnnel de lave à saint gilles les bains
Visit to the lava tunnels: - New Blue Basin Tunne...
the first whales 2019 have arrived
Swimming with whales www.duocean.com Catamaran ce...